Mowdy Responds to Taylor Press Questions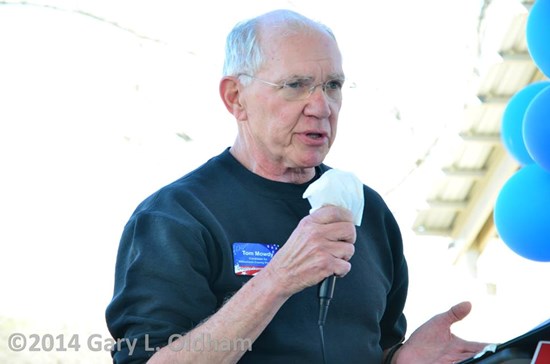 ​Mowdy Responds to Taylor Press Questions

QUESTION 1: City/County/School:
The Texas Association of Counties (or TASB, TML, etc) and other associations
representing elected local officials have been pushing state lawmakers for a
change in the law that would allow public notices to be posted on governmental
websites instead of in newspapers. They say it's more efficient and will save
money. Some local officials, however, have said they feel newspapers are still
a key vehicle for getting important information to citizens. What is your
position on this issue?


ANSWER 1: Access to a website requires at least a computer, and an internet connection. While it may appear that all of our society has access to a website, that is not a fact. Current census data indicate Williamson County citizens are not keeping income pace with the Texas average. We have many citizens living below the poverty line. A computer and internet are clearly not within everyone's budget limitations. So, the statement that websites communicate to the public more efficiently would only be true for those individuals who have access to a computer with an internet connection. If the objective is to provide a public notice, then limiting public notices to a website would not be efficient public notice to those individuals who do not have internet access. The location of a place and time to vote is a public notice. Limiting the knowledge of a voting opportunity would only serve the purpose of limiting citizen participation. To facilitate equal access and a well informed citizenry, I support the continued use of newspapers for public notices.


ANSWER 2 QUESTION 2: Why did you feel you needed to run for County Commissioner Precinct - 4?

I have many concerns about the conduct of the Williamson County Commissioner's Court. The continual mismanagement, poor judgment, and distractions burden citizens by reducing money, people, and management resources needed for county government. Our Commissioner's Court has demonstrated questionable integrity, a failure to respect the citizens and our Constitution, and an inability to competently manage county business. I am turning my dissatisfaction with Williamson County government into positive political action. I encourage each citizen to become aware, to closely examine the issues and candidates, and to vote.


QUESTION 3: What do you have to offer that the other candidate doesn't?


ANSWER 3: A county commissioner's job is to manage the county's resources. County commissioners do not legislate state or national policies. The job is leading
and motivating staff, providing management guidance, and making sound public
expenditure decisions for Williamson County citizens.

I have more than 45 years work experience as a successful leader, a manager, and decision maker. I am specifically trained in those skills and have a successful and progressive record of performance since I was commissioned a U.S. Army officer at the age of 19. I'm a retired military officer with combat command experience. I worked in federal and state government for 15 years as a manager and director. I have worked in large organizations tackling complex problems. I created and sold two successful businesses. I have the specific education for the job, a master's degree in public administration and I'm a Commandant's List graduate of the U.S. Army's Command and General Staff College, which is devoted to leadership excellence.

As I write these answers, a time just before the primary election, I could face either of two opponents. One is a lawyer who stated the Commissioners Court needs a lawyer. I disagree. The Commissioners Court needs experienced and proven management, integrity and leadership that doesn't create legal problems thus requiring lawyers. We have a County Attorney, and we can hire specialist legal advice when needed.

My other possible opponent is the incumbent who has been on the Commissioners Court for two terms. He has a graduate education and business experience, but many decisions he has supported as a Commissioner have not been in the public interest. Furthermore, my experience, education, management, and leadership skills are more extensive and better developed for the position. As shown in my other answers, the incumbent has been a two term contributor to the accumulating Commissioners Court's problems.

QUESTION 4: What experience would you bring to this job? Can you cite specific examples from your past that you feel would help you if you were elected County Commissioner - Precinct 4?

ANSWER 4: My experience in developing the Apache Attack Helicopter is a notable example. In 1976, with my experience as an assault helicopter flight leader in Vietnam, as a tank company commander facing the Soviet Union's Iron Curtain during the Cold War, and computer language knowledge, I was assigned to lead a Directorate of Combat Developments Study Group. My job was to refine, prove, and present the Army Aviation Center's doctrinal concept for development and employment of an Advanced Attack Helicopter, later named the Apache Attack Helicopter. The initial Apache life cycle program cost estimate was approximately $20 billion in 1976 dollars. I achieved my objectives, and the Apache continues to be a valuable, cost effective military asset. During that experience I worked with all branches of the military, with major manufacturers in the aviation industry, and with the U.S. Congress. The enormous number of stakeholders, competition for funding, and decision processes, gave me valuable experiences in leading large, highly political, and complex organizations through processes that result in cost efficient solutions. Those experiences served me well as a federal and state manager and director, and in my business ventures. Those successful experiences are assets I will bring to the County Commissioner's job.
QUESTION 5: What would be the first thing you would do if elected? How would you make that happen?

ANSWER 5: I'm a leader, a manager, and team builder, not someone who thinks he knows all the problems and has all the answers. I work through a process of defining problems, competent research and analysis, and identifying and achieving objectives. A process of motivating and listening to experienced managers and their teams and supporting their efforts to develop well researched and documented solutions for presentation to decision makers at all levels, including the Commissioners Court.

If elected, I would be one of five voting members. I would first seek to know and understand the other commissioners, their issue positions and reasoning processes, to understand the county departments and organizations, and to be understood. In short, I would first seek to develop good working relationships that support good decisions in the best interest of the county's citizens. I would push for the implementation of those good decisions through effective communication with my fellow Commissioners, the county departments, and the county citizens.


QUESTION 6: What are some key issues that you will tackle if elected? How?

ANSWER 6: Citizen trust and participation in government are key, critical and essential, requirements for good government. Elected officials must begin performing and earning citizen trust. The numerous incidents involving organizations funded or managed by the Williamson County Commissioners Court indicate the court's disregard for citizens and reduces citizen trust in government. That distrust is growing because of unacceptable behavior and decisions made by the current members of our Commissioners Court. Citizen distrust is exacerbated by the court's interactions with other elected county officials.

In 1986, Williamson County District Attorney (DA) Ken Anderson prosecuted and convicted Michael Morton, a Williamson County citizen, for a murder Morton did not commit. Ken Anderson then became the 277th District Court Judge. Later, a new county DA, John Bradley, refused to allow the DNA analysis that finally proved Morton's innocence. A famous New York lawyer, Barry Scheck, saw the injustice and won a court ordered analysis. Ken Anderson, the prosecuting DA who became a judge, was convicted, in 2013, of withholding evidence in the Morton murder case and was removed from the bench. One Williamson County commissioner gave major financial support to DA John Bradley and all of the court members failed to speak up to demand that Bradley allow a reasonable request to examine evidence that finally did prove Morton innocent. The importance of seeking the truth should have been the court's priority rather than supporting a position that prevented seeking the truth.

Interactions such as these involving members of the Williamson County Commissioners Court and other elected officials were key elements of injustice in Williamson County. That behavior erodes public trust in our county officials. The failure of any sitting county commissioner to show leadership by publicly condemning such injustice and immoral behavior leaves a leadership vacuum and increases citizen suspicion and distrust. It sends a clear message that our sitting Commissioners will support their cronies before seeking justice for a citizen of Williamson County.

A second well publicized example of cronyism between the Commissioners Court and other elected officials occurred when County Court Judge Don Higginbotham was accused of sexual harassment by two female county employees in 2009. County commissioners were unconcerned with the facts and supported Judge Higginbotham to the extent of illegally hiring a defense lawyer with county funds. We must change a system that would protect a wayward judge we depend on for fair and honest court decisions, as well as ethical and legal behavior outside of the courtroom. The judge resigned after a sexual harassment suit was filed in 2010. A settlement was reached costing the county $375,000, more evidence that we have a harmful embedded cronyism culture in Williamson County that starts at the Commissioners Court. What trust can a woman, or any citizen, have in that kind of government?

The Commissioners Court and the individual members of the court are now being sued because our Commissioners asked a job applicant inappropriate questions about religious and political beliefs during a job interview. The applicant should have only been questioned about his qualifications and ability to perform the job, and not questions in violation of the candidate's constitutional rights. Such violations create public distrust because they indicate the willingness of those public officials to violate a citizen's rights, in favor of their own personal beliefs. Two more applicant's were also inappropriately questioned, and are considering joining the suit. That behavior is government oppression directed against the citizens of Williamson County. The court sent a clear message to the people of our county that unless your religion and political beliefs are shared by the members of Williamson County Commissioners Court you cannot expect fair treatment.

The current commissioners court awarded a 40 year no-bid contract to the county landfill operator in 2009, citing health and safety and "a moral obligation" as the justification for granting an inordinately long contract. The 40 year term of the no-bid contract alone is questionable. Granting such a long contract in a field where technology changes rapidly is illogical. But there is more. The landfill operator is obligated by the contract to pay the county based on the tonnage of waste deposited in the landfill. A study prepared for legal complaint, using county records indicates the waste tonnage deposited in the county's landfill has decreased by 23% since 2009. (See the document on my website isues, or at http://www.gismedia.com/thewilco/crimex.pdf ) Because the county has experienced significant population growth since 2009, one would obviously expect the waste tonnage to increase, not decrease. If the landfill operator is not properly accounting for the waste tonnage, the county is losing money on that contract. The Commissioners Court should have a "moral obligation" to the taxpayers of Williamson County to ensure we are not losing money on any contract.

The preceding paragraphs describe just some of the accumulating facts and circumstances that are eroding the public's trust and confidence in the Williamson County Commissioners Court. Democracy depends on citizens' confidence in our institutions. We can restore that trust and confidence, but it will take deliberate and visible commitment to a high standard of integrity, respect for each citizen, top quality management, and complete transparency. Restoring citizen trust and confidence in government is a key and top level issue for me.


QUESTION 7: Why do you believe voters should vote for you?

I've have extensive government and business management experience
and a proven record. I am well qualified and I am motivated.

I enlisted in the military at 17 years of age, was commissioned a Lieutenant at 19 years old, and retired as a Major in 1984 after 20 years of honorable service. I have a successful and extensive leadership record.

I was an assault helicopter flight leader in Vietnam, during the worst years of that war. I commanded a tank company facing the Iron Curtain in Europe during the Cold War. I have demonstrated leadership, integrity, and management skills under extremely difficult conditions.

I worked for federal and state government for 15 years as a manager and director. I've created and sold two successful businesses. I have a master's degree in public administration. I'm a Commandant's List graduate of the U.S. Army Command and General Staff College, a highly recognized senior management and leadership school.
I am dedicated to democracy, truth and integrity, and our founding principles. I will bring a much needed change to our Commissioners Court.
Tom Mowdy
Candidate for County Commissioner, Precinct 4
Williamson County Commissioner's Court